Dr. Jesse Gitaka, a lecturer and research fellow at Mount Kenya University is a recipient of the Grand Challenges Exploration award for 2015 by the Bill and Melinda Gates Foundation.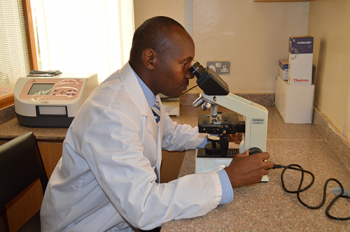 A medical doctor with specialist training in Tropical Medicine and Infectious diseases from University of Nairobi and Nagasaki University, Japan, Dr. Gitaka is current conducting research activities that include studying the genetic diversity of important disease influencing genes in malaria parasites, surveillance for anti-malaria drug resistance development, new strategies in malaria elimination, integrated management of schistosomiasis, malaria and helminthes, development of malaria vaccines and global health innovations.
He is also a scholar of the Japanese Society for the Promotion of Sciences and the International Infectious Disease and Global Health training programs. Previously, Jesse worked at the Kenya Medical Research Institute-Wellcome Trust Research program in Kilifi as a study physician.